Meet the writers of InkOnDaPaper
Brian hails from Grand Rapids Michigan and his love for all things print started his freshman year of high school.  After learning how to silk screen, he also learned to run presses like AB Dick & Chief 15 Duplicators (full credit given to Mr. Stauffer in these early days for his teaching). At this point he was hooked.  After high school he made what was an obvious choice to him – the Printing Management program at Ferris State University.  He considers himself the poster child for technical programs in high schools with his B.S. in Printing Management, and an A.A.S. in Printing and Digital Graphic Imaging Technology.
After graduating he moved to Chicago – more specifically the press room floor at Cardinal ColorPrint (now Cardinal ColorGroup).  Working alongside a massive 40″ 8 color Heidelberg he dipped his hands into everything from job production, scheduling,  and estimating all the way through plant material purchasing.
Brian currently works for Charterhouse where he is the North American Vendor Manager.  Here he meets vendors in all avenues of the printing industry.
His love for print isn't just commercial. He collects print history and has a large collection of letterpress letters, old print plates, color wheels, loupes and paper calipers.  On his free weekends he silkscreens in his home, and writes for this awesome blog.  His collection is missing three two things for any of you willing to make a trade.  A small dandy roller (preferably under 36″)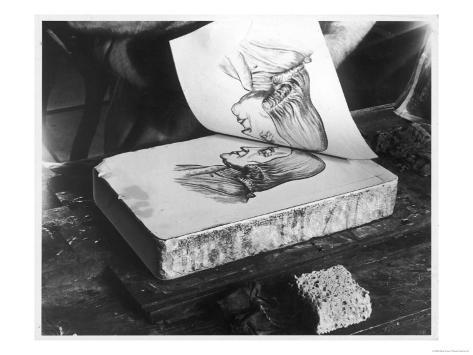 And a Premier Print Benny Award
Jason Shudy's passion for printing all started in Mr. Lunwigsen's graphic arts class at John Hersey High School.  Learning all about printing freshman year Jason decided to continue the graphics arts class for the next three years. Like every senior Jason did not know what he wanted to do next, but he had a passion for printing and decided to look at several universities with print programs. Jason attended Ferris State University in Big Rapids, Michigan and enrolled in their print management program. Over the next 4 years, Jason learned everything from how to strip up film to how to operate a press. One requirement was to do an internship and, with Jason being from Chicago he was happy to find a spot over the summer at Elk Grove Graphics.
After his senior year at Ferris State University, Jason accepted a sales position with Elk Grove Graphics.  The next 4 years flew by and Jason had learned the ins and outs of the company and built a solid customer base. Like all jobs, Jason was looking for his next challenge and accepted a position in sales with Darwill. The decision to leave Elk Grove Graphics was difficult, but Jason was looking forward to the 40 inch offset press market and direct mail capabilities that Darwill provided to his customer base.Over the next two years Jason learned more about the print industry and the niche Darwill filled for customers.
In the winter of 2011 Jason was approached by Veritas Document Solutions and parent company Consolidated Graphics to take on the role of national business development. This was a complete change for Jason as Veritas specialized in Insurance, Financial and Healthcare print programs and front-end automation software. Although it was still printing, it was a change from transactional print to print programs, front-end automation and the national capabilities of Consolidated Graphics. Today Jason is still with Veritas and looks forward to continuing his journey in the print industry and seeing what changes will take place over the coming years. In January 2014, Consolidated Graphics and Veritas were purchased by RR Donnelley.